LATEST NEWS
DIVISION TWO NEWS THIS WEEK
23.08.16
Only three matches were played last weekend. Hunslet Parkside consolidated their top position with a 50-0 win over Dewsbury Celtic, Askam stayed in second place with a 40-20 win at Stanningley and in a middle-of-the-table clash Wigan St Judes beat Thhornhill Trojans 24-16.
There was no match for Stanley Rangers last Saturday and again there is no fixture this weekend because of the Bank Holiday. The next match is going to be on Saturday September 3rd when Stanley travel to Blackbrook, currently sixth in the table, kick off at 2.30pm.
SADDLEWORTH TAKE THE TWO
15.08.16
Third-place Saddleworth Rangers came to Lee Moor and left with the two points but Rangers gave a good accouint of themselves getting the score back to 14-18 in the second half but Saddleworth sealed the win with two further tries. Stanley's Man of the Match was Neal Ackroyd. There is no fixture this weekend.
STANLEY RANGERS UNDER 16s PLAYERS SIGN FOR LEEDS RHINOS
15.08.16
Leeds Rhinos have added seven top scholarship talents to their academy ranks for 2017 and two Stanley Under 16s players have joined the club. Alfie Goddard and Owen Trout have gone through the junior ranks at Stanley juniors and we wish them good luck with the Rhinos.
AN EVENING WITH SEAN LONG
08.08.16

There are still a few tickets left for an evening with the legendary Sean Long on Saturday August 13th. Sean had a long career with St Helens and Great Britain and was awarded the Lance Todd Trophy three times. The evening will include a speech and interview conducted by compere Pete Emmett with a Q and A session after. Food is included in the ticket price which is £35. The evening kicks off at 7pm and dress code is smart casual. Tickets are available from Richard Cattley, so come along and enjoy a fantastic chance to meet one of rugby league's sporting legends.
STANLEY PLAYERS FEATURE IN ENGLAND ACADEMY OZ TOUR
08.08.16

Three ex-Stanley Rangers Under 16s players have been in the England Academy squad that have been on a short tour in Australia playing against the Australian Schoolboys. Lewis Heckford now at Wigan Warriors, Matty English playing at Huddersfield Giants and Morgan Smith now at Warrington Wolves were all part of the Stanley Rangers Under 16s team of 2014 who won the BARLA Xamax National U16 Cup Final in 2014. In the 1st Test which Australian Schoolboys won 50-26, played in Queensland, both Matty and Lewis each scored a try with Morgan kicking two goals and in the 2nd Test played in Sydney after the Cronulla v Canberra game, Smith again kicked two successful conversions. The 2nd Test was won by the Australian team 50-12.
STANNINGLEY WIN AT STANLEY
07.08.16
In a bottom-of-the-table clash, Stanningley came to Stanley but proved too strong in the final part of the second half to beat the hosts 40-24. Stanley's tries came from tries by Kieran Holt, Shaun Abson, Liam Crawley and Anton Porter, with four goals from Danny Grice.
This weekend - 13th August - in Round 18 of the fixtures, Stanley are again at home to mid-table Saddleworth Rangers. Kick off is at 2.30pm.
WAKEFIELD TRINITY WILDCATS SUMMER CAMP EMBED THE PATHWAY DATES
08.06.16

Wakefield Trinity Wildcats have announced the dates for their Embed the Pathway summer camps at the Belle Vue Stadium All four development days will take place at Belle Vue Stadium from 10am until 2pm with registration starting from 9.30am.. The days will consist of activities aimed at developing a player's technical and tactical ability in addition to mental and core skills which will be conducted by the Wildcats' Community department. The four dates are:
Tuesday 26th July – U12s (yr 7) and U13s (yr 8) combined
Tuesday 16th August – U12s (yr 7) and U13s (yr 8) combined
Wednesday 17th August – U14s (yr 9)
Wednesday 30th August – U14s (yr 9)
Use the link here to book players on Wakefield Wildcats as places are limited to 50 attendees per day so be quick as booking will be going very quickly. More information can be found on the Trinity website.
HUDDERSFIELD GIANTS SUMMER CAMP EMBED THE PATHWAY DATES
02.06.16

Huddersfield Giants are holding their Embed the Pathway summer camps in July and August. For U12s and U13s there are three dates - 25th July, 8th August and 22nd August between 10-12 noon- with registration at 9.30am for all dates. For the Under 14s dates are Tuesday 26th July, 9th August and 23rd August again registration at 9.30am, with the sessions running from 10-12 noon. Sessions are free.
APPEAL FOR FRIENDS OF STANLEY RANGERS
18.05.16

Stanley Rangers are appealing to all our supporters to see if you can spare some time to become a Friend of Stanley Rangers. If you can help with maintaining the club please contact the website address on stanleyrangers@aol.com or Sarah Trout the Club Secretary for more information. Any help is much appreciated.
STANLEY RANGERS GAINS RFL CLUB ACCREDITATION
05.05.16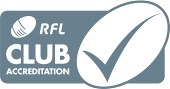 Stanley Rangers have now been awarded Club Accreditation by the RFL. The purpose of achieving it is to demonstrate a club meets minimum standards in management, safety and accessibility for children and young people. The club has been working hard towards accreditation.