LATEST NEWS
ASKAM FIXTURE ON SATURDAY
22.06.16

Stanley Rangers 1st team travel to Cumbria on Saturday to play fourth place Askam. The match kicks off at 2.30pm at Fallowfield Park, Sandy Lane, Askam in Furness. The following weekend - July 2nd - Rangers are at home to Salford City Roosters, kick off at 2.30pm.
AN EVENING WITH SEAN LONG
22.06.16

Stanley Rangers are pleased to announce their Sportsman's Dinner this year will be an evening with the legendary Sean Long on Saturday August 13th. Sean had a long career with St Helens and Great Britain and was awarded the Lance Todd Trophy three times. The evening will include an speech and interview conducted by compere Pete Emmett with a Q and A session after. Food is included in the ticket price which is £35. The evening kicks off at 7pm and dress code is smart casual.
2nd TEAM GAME POSTPONED THIS WEEKEND
17.06.16
The 2nd team game against Farnley Falcons A has had to be postponed and it has not been possible to get a replacement fixture. The next scheduled A team match is away at Farnley Falcons A on July 2nd.
THIS WEEKEND'S FIXTURES
12.06.16
The 1st team struggled against the top-of-the-table, unbeaten team Hunslet Club Parkside and were beaten 0-62 on Saturday. This weekend - Saturday June 18th - there is no first team game but the A team are playing in the Yorkshire Mens League against Farnley Falcons A, kick off at 2.30pm. The next 1st team game will be on the 25th June away at Askam.
WAKEFIELD TRINITY WILDCATS SUMMER CAMP EMBED THE PATHWAY DATES
08.06.16

Wakefield Trinity Wildcats have announced the dates for their Embed the Pathway summer camps at the Belle Vue Stadium All four development days will take place at Belle Vue Stadium from 10am until 2pm with registration starting from 9.30am.. The days will consist of activities aimed at developing a player's technical and tactical ability in addition to mental and core skills which will be conducted by the Wildcats' Community department. The four dates are:
Tuesday 26th July – U12s (yr 7) and U13s (yr 8) combined
Tuesday 16th August – U12s (yr 7) and U13s (yr 8) combined
Wednesday 17th August – U14s (yr 9)
Wednesday 30th August – U14s (yr 9)
Use the link here to book players on Wakefield Wildcats as places are limited to 50 attendees per day so be quick as booking will be going very quickly. More information can be found on the Trinity website.
LEIGH BEAT A STRUGGLING STANLEY
06.06.16
A 14-man squad travelled to Leigh East at the weekend but found the task too much losing out to the home side 96-6. Stanley's points came from a Johnny Dickinson try, converted by Grice. This weekend - 11th June - Stanley are at home with Hunslet Club Parkside visiting. The team needs your support so please come along.
MATCHES RESUME THIS WEEKEND
02.06.16
After the weekend Bank Holiday break, the seasons resume for our teams. The Open Age will be fielding two teams on Saturday 4th June with the 1st team away at Leigh East and the A team playing away at Allerton Bywater A. Saturday fixtures continue for the junior teams with the U10s away at Thornhill Trojans; the Under 11s are at home to King Cross Park; the Under 12s are away at Heworth and the U13s fixture against Featherstone Lions has been postponed (the two teams will be meeting each other in the semi final of the YJ U13s cup on the 11th June).
On Sunday 5th June, the Under 16s are away at Oulton Vikings; the Under 15s are at home to New Earswick All Blacks; the Under 14s are away at Hunslet Parkside, the U9s are at home to Castleford Panthers; the Under 8s are also at home to Batley Boys and the Under 7s are at home to Dewsbury Celtic.
HUDDERSFIELD GIANTS SUMMER CAMP EMBED THE PATHWAY DATES
02.06.16

Huddersfield Giants are holding their Embed the Pathway summer camps in July and August. For U12s and U13s there are three dates - 25th July, 8th August and 22nd August between 10-12 noon- with registration at 9.30am for all dates. For the Under 14s dates are Tuesday 26th July, 9th August and 23rd August again registration at 9.30am, with the sessions running from 10-12 noon. Sessions are free.
APPEAL FOR FRIENDS OF STANLEY RANGERS
18.05.16

Stanley Rangers are appealing to all our supporters to see if you can spare some time to become a Friend of Stanley Rangers. If you can help with maintaining the club please contact the website address on stanleyrangers@aol.com or Sarah Trout the Club Secretary for more information. Any help is much appreciated.
STANLEY RANGERS GAINS RFL CLUB ACCREDITATION
05.05.16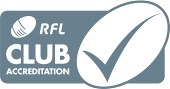 Stanley Rangers have now been awarded Club Accreditation by the RFL. The purpose of achieving it is to demonstrate a club meets minimum standards in management, safety and accessibility for children and young people. The club has been working hard towards accreditation.