RANGERS LOST OUT TO BARROW
25.07.17
Stanley lost out to Barrow Island 20-26 in a close-fought encounter, having lost a 10-point lead. Try scorers for Stanley were a brace for Liam Grimmett, Danny Asquith and Joe Binns with 2 goals to Danny Grice. The club wish to thank Barrow Island for their great generosity in presenting a cheque to the Evan Hawksworth Fund.
ELLAND LEAVE NCL DIVISION THREE
26.07.17
Elland have withdrawn from the National Conference League after they were unable to field a full team at the previous week's fixture against Woolston Rovers. Although Elland have decided not to run an Open Age team until 2018 at the earliest the club has strong youth and junior structure. Elland's results have been expunged.
STATEMENT BY STANLEY RANGERS, ISSUED THROUGH THE RFL BENEVOLENT FUND
18.06.17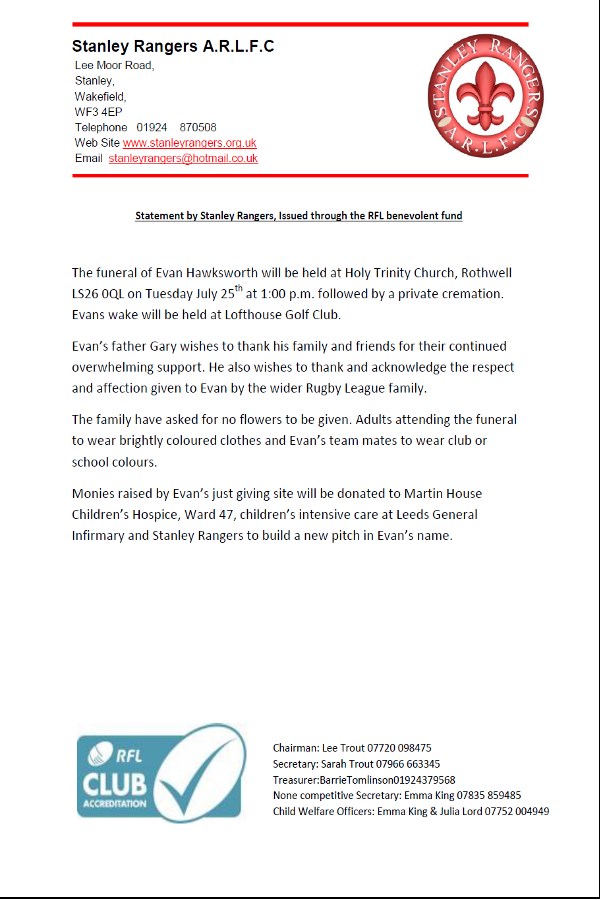 CHANGE IN KICK OFF TIME FOR 1st TEAM
21.07.17
Please note that the kick off time for Ssturday's home game against Barrow Island ARLFC has been changed to 2pm.
RAFFLE PRIZE NUMBERS
Many thanks to everyone who donated wonderful prizes for the raffle on Friday evening. Here is a list of the winners. Please claim your prizes by th 22nd July by contacting Joanne Costello. More details by clicking the link below.
WONDERFUL TRIBUTE TO EVAN
15.07.17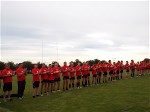 Last night saw the rugby league family and the local community come together at Lee Moor to pay their respects for the life of Evan Hawksworth. Hundreds of people came to the club on the evening of the Open Age game against Eastmoor Dragons to remember Evan. Floral tributes, including white roses laid by the Under 14s team, were placed at the top field. Family, friends, school friends, Stanley Rangers teams, coaches, team mates from the under 14s, Stanley Rangers junior teams, local clubs, the Yorkshire Junior League, the RFL and many people from Stanley all came together with the match officials, Eastmoor Dragons, coach Steve Abrahams and Evan's family and shared in a one minute's applause in honour of Evan at the start of the game. The 1st team and the Under 14s were wearing special t-shirts with Hawksworth #rangersforever on the back and TeamEvan on the front. As the applause began the Under 14s team released red, black and white balloons. All the proceeds from donations, The BBQ and a raffle will go to the RFL Benevolent Just Giving page https://www.justgiving.com/fundraising/evan-hawksworth.
FRIDAY NIGHT GAME TO RAISE FUNDS FOR EVAN
13.07.17

This Friday night at 7.30pm we host near neighbours Eastmoor Dragons in the Division Three derby. In light of Sunday's events we will be holding a fund-raising evening, with a BBQ and other events, and also donating all gate receipts from the match to the Evan Hawksworth - RFL Benevolent Fund Just Giving page. Donations can be made here: https://www.justgiving.com/fundraising/evan-hawksworth It would be a fantastic show of support if as many of you as possible could head up to the club on Friday night. Please come along and show your support and care. Please come for 6.00pm, kick off 7.30pm.
EVAN HAWKSWORTH STATEMENT
11.07.17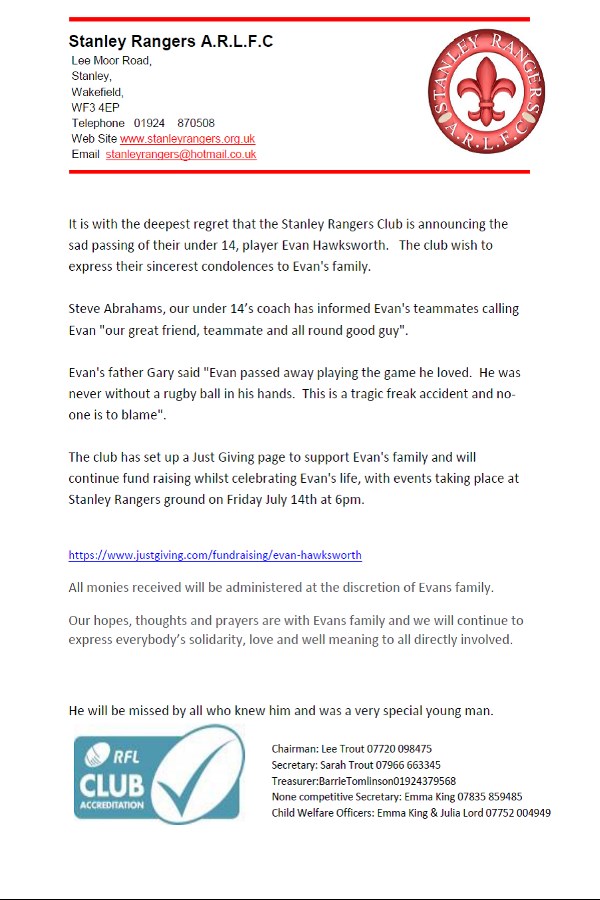 RFL CONFIDENTIAL EMOTIONAL SUPPORT HELPLINE
13.07.17
If any parents are concerned about their children or any issues arising from the tragic event at our club please contact the Sporting Chance/RFL Confidential Emotional Support Helpline on 07500 000 777.
WAKEFIELD TRINITY SUMMER CAMP
10.07.17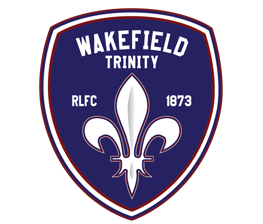 Wakefield Trinity will be offering camps which are ideal for young rugby league players to develop their skills and play games whilst having fun! As well as receiving coaching from Wakefield Trinity qualified staff, the camps also include guest coaching from Wakefield Trinity first team stars!, This camp takes place on either the 2nd and 3rd August or 30th to 31st August. For further enquiries email James Stephenson on james.stephenson@wakefieldfieldtrinity.com
Dance camps, on 2-3 August or 30-31 August, are led by Jodie Travis owner of the clubs official dance partner DanceXplosion. All attendees will learn an exciting routine just like "pop stars" to be performed at half time of a Wakefield Trinity Super 8s Fixture! For further enquiries email Jodie Travis on dancexlposion2016@yahoo.co.uk
Children taking part in our new Learning Zone camps, on the 8th and 9th August, will complete a number of fun activities such as the "Belle Vue Egg Drop Challenge", "Player Interviews" & "The spaghetti & Marsh Mellow Tower Challenge". For further enquiries please contact Jo Kelly on jke@wakefieldtrinity.com
HEART BEAT OF SPORT SUMMER CAMP
10.07.17

Brad Foster and Tony Tonks are running rugby camps on either 2-4 August or 9-11 August at the Bronte Field, Whin Mount, Normanton. Children can have fun while learning new skills and keeping fit. The camps also go ahead come rain or shine. These camps are suitable for children age 5-12 years. To find the online application form click on the link below.