LATEST NEWS
2nd WIN FOR RANGERS
22.03.15
In a closely-fought match Rangers came away from Oldham with a 24-22 win over Oldham St Annes. This keeps Stanley in the top three of the table with Askam and Millom. On Saturday - 28th March - Stanley again have an away fixture at Underbank Rangers, kick off 2.30pm.
JUNIOR TEAMS CHALLENGE CUP DRAW ANNOUNCED
22.03.15

The 2015 Challenge and Continuation Cup draws have been made and the games are to be played on the 28th and 29th March. On Saturday 28th March, in Round 1, Rangers Under 12s are away to Guiseley Rangers and the Under 13s are also away at Guiseley Rangers. On Sunday 29th March, the Under 14s will be away to either Castleford Panthers or Siddal. In the Under 15's Challenge Cup preliminary round, Stanley Rangers are away to Oulton Vikings and finally, the Under 16s will also have an away Round 1 match at Stanningley. Good luck to all our teams.
YORKSHIRE MENS LEAGUE SEASON FIXTURES
22.03.15
The Yorkshire Mens League season will begin on April 25th with Stanley Rangers A at home to Garforth Tigers. The next fixture is again at home on May 2nd against Huddersfield YMCA.
CLOCKS GO FORWARD
22.03.15

Please remember - in the UK the clocks go forward 1 hour at 1am on the last Sunday in March, which means that the clocks go forward at 1am on Sunday 29th March. This will mean that those teams, players, parents and supporters who have fixtures on Sunday 29th March should make sure their clocks are altered to the correct time.
FIRST WIN FOR STANLEY
14.03.15

Stanley Rangers put in a strong second half performance to break the 12-all draw at half time and come away 36-18 winners against Castleford Panthers in the first match of the season. Try scorers were Carl Hughes (2), Sean Abson, Chris Grice, Joel Marsh (2), James Bell and 4 goals to Danny Grice. This coming weekend Stanley travel across to Oldham St Annes, kick off at 2.30pm.
TRIBUTE TO JOE TATE
14.03.15

Sadness for Stanley Rangers with the passing last weekend of one of the club's great stalwarts, Joe Tate. As a member of the "backroom staff" at Stanley Joe could turn his hand to anything from collecting at the gate to retrieving lost balls from the back of the sticks. He will be sadly missed and Stanley Rangers send their condolences to his wife Margaret and son Richard. As a tribute to his dad, Richard will be running in the Leeds 10k on 12th July 2015 and will be looking for sponsors. He also has a number of shirts for sale and all the proceeds will go to St Gamma's Hospice. The funeral will be on Tuesday 24th March at St. Mary's Catholic Church, Rothwell at 12.15 and afterwards at Lofthouse Cemetery at 1pm. The funeral tea will be held at Lofthouse Gate WMC. Attached is a fine tribute to Joe by Barbara Rawlinson.
GIVE RUGBY A TRY!
04.03.15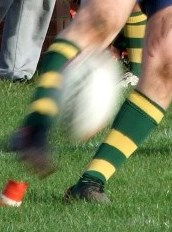 Would you like to give rugby league a try? Stanley Rangers junior teams are looking for new players and offer a safe, friendly club with experienced coaches. Currently the under 8s, under 9s, under 10s, under 12s and under 14s are looking for new players so why not come along a give it a try!
MISSING ANY NEWS?
If you're missing any of this season's match reports or news don't forget to go to the Archive News section where all the season's news is stored. You can even go back through past seasons or contact the website if you need any further information. Don't forget - the club website is YOUR website!
RULES OF THE GAME

If you're new to the great game of rugby league why not check out the rules of the game in the Rugby Extras section? You'll find the basics of the game explained and useful links to other rugby websites. Why not brush up your knowledge and find out some new facts in this section.