02.05.15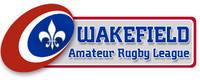 In a wonderful night at Belle Vue on the 29th April, Stanley Rangers Under 12s and Under 13 both won their finals of the Wakefield & District ARL Junior Finals.

The Under 12s went with 12 players due to injuries but worked hard to play their way to victory, beating Upton Under 12s 24 - 12.
The Under 13s went as under dogs being 2 divisions below Division One opponents Normanton Knights U13s. They took an early lead but Normanton fought back to level the scores with minutes to go. Stanley kept their cool and made a charge to the try line where a fantastic off load by Rangers number 8 Brad Grahamn allowed Luke Green to step through to score the winning try. Stanley won 26 - 22.
Congratulations to both our teams on a great achievement!