LATEST NEWS
GREAT WIN FOR A TEAM!
24.08.15

With no first team game at the weekend, it was the A team who took the honours at Mirfield Stags with a 38-20 win. The tries were scored by Jonny Karadzic, Shaun Abson, James Fox, Grant Susse, Grant Wynn, Jack Ledger, Rob Fox with 7 goals kicked by Danny Duce.
The next fixture for the 1st team will be on September 5th away at Leigh East, currently 3rd in the Division Two table. The only match played at the weekend was top place Millom who beat bottom-of-the-table Oldham St Annes 48-0. Millom are now two points clear at the top of the table and have the advantage of a game in hand over nearest rivals Featherstone Lions.

A TEAM RESULT
18.08.15
The A team travelled to Garforth and lost 52 v 18 to the hosts. Try scorers for Stanley were Rhodes, R. Fox and a brace to Susse, with a goal to Abson. The next match is this Saturday - 22nd August - away at Mirfield Stags, , meet up at 12.30-45.
STANLEY PLAYERS NAMED IN BARLA UNDER 17s SQUAD
18.08.15
Thomas Gant and Reiss Butterworth have been named in the Under 17s BARLA County Tri-Series Yorkshire squad by coaches Brett Turner and Trevor Penrose. The champion Yorkshire squad will take on Lancashire and Cumbria in the series which begins with a home game for Yorkshire against Lancashire at Sharlston on Sunday 29th October.
TOP TEAM FEATHERSTONE TOO STRONG FOR STANLEY
10.08.15
Top-of-the-table Featherstone Lions proved too strong for Stanley Rangers. Rangers only points came from a try on the 28th minute through James Senkiw, giving a half time score of 4-38. The final 4-62 score moved Featherstone to the top of Division Two and Stanley 3rd from the bottom. Dudley Hill have moved up two places ahead of Stanley and Askam on points difference.
There is no fixture this weekend but the A team have an away fixture at Garforth Tigers, kick off 2.30pm.
OPEN AGE MATCH DAY APPEAL
10.08.15

The Open Age team are looking for help on match days - helping with the kit, serving tea and coffee before the match and food afterwards, someone to do game day tweets. All these jobs need help and to support the team and the club so if you feel you can help please email stanleyrangers@aol.com. Thank you.
JUNIOR LEAGUES SUMMER BREAK
10.08.15
The junior teams have now finished their fixtures and will be enjoying a summer break before resuming in September. The Under 16s will be travelling to Siddal for a friendly match on Sunday 16th August, kick off at 11.30am.
TIDY UP DAY IS THIS SUNDAY
05.08.15

The club is holding its Annual Tidy Up Day this Sunday August 9th starting 10am. If you have an hour you can spare please come along and help. If you have a petrol strimmer or hedge cutter please bring them too. Refreshments will be available. Thanks
A TEAM TO PLAY AT CUTSYKE ON 5th AUGUST
04.08.15
The A team will be playing against Cutsyke tomorrow evening - Wednesday 5th - with a 7.30pm kick off. Players need to meet at 6.30pm at the clubhouse.
PAST PLAYERS EVENING ANNOUNCED
04.08.15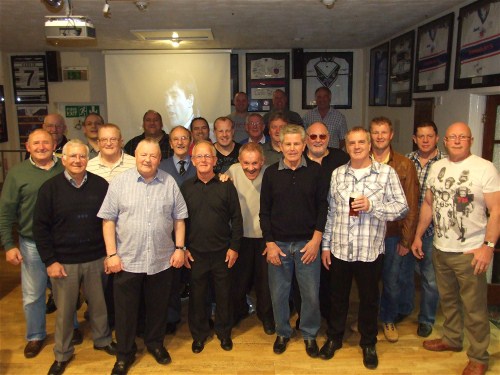 Stanley Rangers reunion evening, April 2012
Stanley Rangers would like to invite all past players, new and old, up to Stanley Sports & Social Club on the 19th September 2015 for our last home game of the 2015 season against Millom. We want to try get as many old faces back up to the club as possible so would appreciate if whoever gets this invite passes the message on to whoever they can. The match will kick off at 2.30pm and the club will be open from midday til late.

DISAPPOINTMENT AT BLACKBROOK
03.08.15
Blackbrook, fifth in the table, had a convincing win over Stanley Rangers on Saturday with Rangers limited to one try by Jordan Arthur in the first half. The final score was 48--4 to Blackbrook which keeps Stanley in 8th place in the table, fourth from the bottom. This coming weekend, Rangers are at home to 2nd place Featherstone Lions. Kick off is at 2.30pm and your support is very welcome.
YOUNG PLAYERS ENJOY THE GALA
03.08.15
The weekend saw a highly enjoyable gala at the club for under 7s, under 8s and under 9s. Sunday the 2nd August saw teams from Crigglestone, Kippax and Newsome took part with the host sides in a day of rugby and fun.
DATES FOR YOUR DIARY
03.08.15
Here are dates for you to add to your diary:
29th August - Challenge Cup Final
19th September - Past Players Day. More details to come shortly.
3rd October - Presentation Night
31st October - Halloween Party - Open Age players and families.
6th November - Bonfire Night