RANGERS LOSE TO BLACKBROOK
21.09.16
A brave effort from 13-man Stanley Rangers at Blackbrook on Tuesday evening resulted in a 86-0 win for Blackbrook. Rangers had some good periods of play but were overcome by numbers in the end. The final game of the season is on Saturday at 2.30pm against Wigan St Judes, currently 8th in the table. Come along and gove the lads your support in their final game.
Presentation Evening for the 1st team is going to be at the Clubhouse on October 8th.
RANGERS STRUGGLE AGAINST THIRD PLACE THORNHILL
19.09.16
Thornhill Trojans proved too strong for Stanley winning 54-0. Rangers next game is tomorrow - Tuesday 20th September - when they travel to St. Helens to play Blackbrook in the rearranged fixture, kick off at 7.45pm. The final game of the season is at home on Saturday 24th September against Wigan St Judes.
LIAM WINS MAN OF STEEL
19.09.16
At the recent Wakefield Triniity Wildcats' Academy and Youth Awards evening former Stanley Rangers Liam Senior was awarded the Man of Steel in the Under 19s Academy. Liam played through the junior age group teams at Stanley before joining the Wildcat's Academy scheme. He was also in the England Academy 17-man squad that toured Australia this summer. Congratulations Liam!

STANLEY UNDER 16S SELECTED FOR BARLA TRI-COUNTY SQUAD
13.09.16
Well done to three of our Under 16s who have been selected for the Yorkshire BARLA Tri-County squad. Nigel Dangare, Kian Holroyd and Edward Wilcock all went through trials last week and were selected for the squad. The BARLA Three Counties Tri-Series comprises Yorkshire, Lancashire and Cumbria and match dates will be announced shortly. Congratulations to Nigel, Kian and Edward and we wish them good luck.
DUDLEY HILL TOO STRONG FOR STANLEY
13.09.16
Sixteen-man Stanley Rangers went ahead against visitors Bradford Dudley Hill thanks to a Kenny Walton try but the visitors proved too strong coming out 52-14 winners. It was a mighty effort from Stanley whose other points came from tries by Shaun Abson who converted his own try and Jamie Bell. The next match will be away at Thornhill Trojans on Saturday, kick off at 2.30pm, then there is the re-arranged fixture at Blackbrook on Tuesday 20th September, kicking off at 7.45pm.
REARRANGED FIXTURE AT BLACKBROOK
04.09.16
The postponed fixture against Blackbrook that should have been played on Saturday 3rd September has now been rearranged for a mid-week match. Rangers have a home game this Saturday the 10th against Bradford Dudley Hill and will then play on the 17th September away at Thornhill Trojans. The rearranged fixture against Blackbrook will now be on Tuesday 20th, kick off at 7.45pm and then the final fixture is at home on Saturday 24th against Wigan St Judes.
NEW UNDER 18S TEAM FOR NEXT SEASON
30.06.16

Calling all under 18s players! Stanley Rangers are forming an under 18s team for the new season and looking for new players. We are also looking for team personnel - a coach, team manager, touchline manager and first aider. Anyone interested should contact Sarah Trout via the club email stanleyrangers@aol.com or by mobile, number 07966 663345.
1st TEAM GAME AT THE WEEKEND
30.06.16
After a two-week break the 1st team will travel to Blackbrook on Saturday - 3rd - kick off at 2.30pm. Blackbrook, currently sixth in the table, play at the Blackbrook Sports & Recreation Club, Boardmans Lane, Blackbrook, St Helens, Merseyside, WA11 9BB.
PLEASE NOTE: This fixture has been cancelled.
STANLEY U16 PLAYERS SIGN FOR ACADEMIES
30.06.16
Congratulations to our Under 16 players who have signed professional academy contracts. Ryan Butterworth has signed for Bradford Bulls, Owen Trout and Alfie Goddard will be going to Leeds Rhinos academy and Charlie Frost and Nathan Newbound have signed for Wakefield Trinity.
STANLEY RANGERS GAINS RFL CLUB ACCREDITATION
3008.16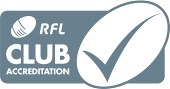 Stanley Rangers have now been awarded Club Accreditation by the RFL. The purpose of achieving it is to demonstrate a club meets minimum standards in management, safety and accessibility for children and young people. The club has been working hard towards accreditation.